We provide professional oven cleaning services to both residential and commercial users. Regardless of the size, number, or brand of your ovens, we can provide effective cleaning services for all. Our cleaning experts will visit your home or business site and leave your ovens smelling fresh and looking new.
Enhance the Life of Your Ovens
Ovens are an essential component of every kitchen. High-quality ovens are tough and last for years. However, with usage and time, they gather grime, grease, dust, and carbon, which can affect your oven's performance and useful life. Many of the top-brand ovens are also highly expensive. With no regular maintenance and cleaning, your oven can deteriorate, and you may have to replace it much earlier. Call us, and our professional oven cleaner will transform your old and dirty oven so that you can protect your investment and enjoy the complete useful life of your oven.
Hygienic and Healthy Cooking
Ovens are used for cooking various delicious recipes. From baking cakes to grilling meat, people use them in several ways. Many cooking methods require the food items to be placed in the oven without any cover. As these food items are heated, they produce various vapours and particles. These particles will accumulate inside your oven. Without periodic professional cleaning, these and other particles may affect the taste and the quality of what you cook. Getting rid of all such unhygienic elements from your oven requires a detailed oven cleaning service that professionals can provide you with.
If you have any question feel feer to contact us.
Domestic Vs Commercial Usage
The accumulation of dust and grime is even higher in commercial ovens compared to domestic ovens. They are used more regularly and for longer periods of time in a single day. Because they have to serve numerous customers with different orders, they may accumulate all sorts of contaminants much more quickly than domestic ovens. They are also more expensive and are a major investment in your business. Our Commercial Oven Cleaner will carry out detailed and intricate cleaning of your commercial ovens so that you can serve quality and delicious food to your customers.
Save Time and Money
You might take on the task of cleaning a domestic or commercial oven yourself, but it will never match the quality of professional oven cleaning. Our experts have cleaned hundreds of ovens and are aware of most types inside out. They know which cleaning supplies and tools should be used to ensure effective cleaning and avoid damage to your oven. Commercial ovens are relatively difficult to clean; any damage because of using the wrong tools or harmful cleansers will put your oven out of operation. You will be wasting your valuable time and money if you have to get your oven repaired or replaced. So leave the cleaning to our experts.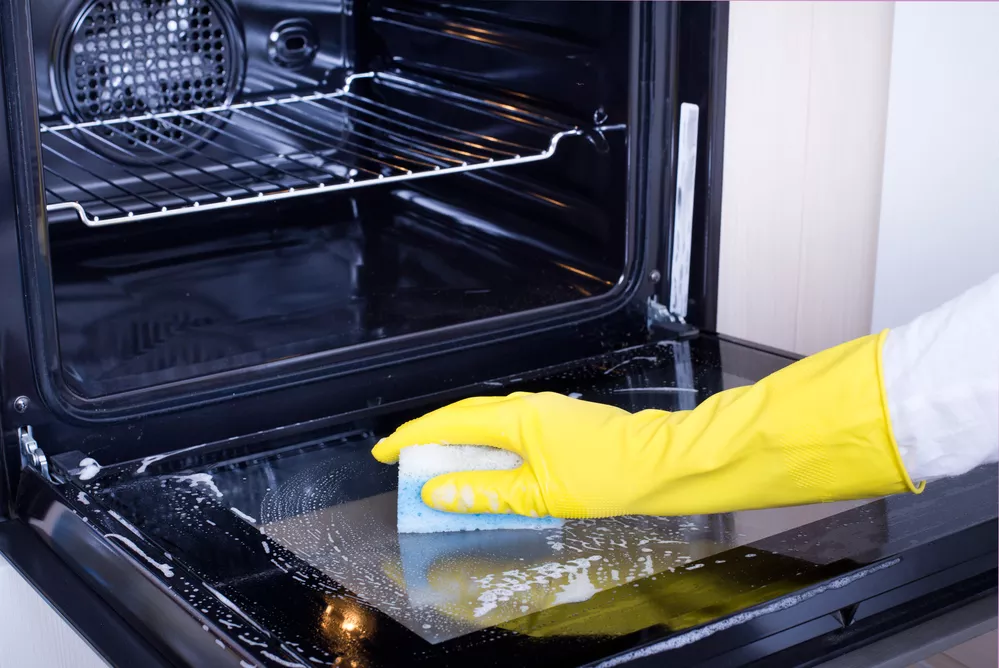 If you have any question feel feer to contact us.
Effective Cleaning with Harmless Agents
It is not just essential to clean commercial and residential ovens, it is equally important to use harmless cleaning agents and tools. No abrasive tool should be used that leaves scratches on your oven's glass or the exterior. Moreover, cleaning agents contain strong chemicals which can damage your oven. Our professional oven cleaners use harmless tools and eco-friendly chemicals when carrying out oven cleaning to ensure your ovens are not damaged, and your food is not contaminated.
Emergency Cleaning Services
Suppose you have a busy day ahead because you are expecting guests at home or you expect a large number of customers at your restaurant on weeknights, but you just learnt that your oven is not providing proper heat. For a domestic user, this could end in an embarrassing situation; for a commercial unit, this can mean losing business that nobody can afford. You can count on our emergency cleaners. If you smell carbon in your oven, or your food smells like something else, you can rely on our urgent cleaning services. Our Local Oven Cleaners will reach you in an instant and make your oven fresh and clean again.
Five Reasons to Hire Us
Professional and experienced oven cleaners.
We clean all types and brands of ovens, both domestic and commercial.
Highly competitive oven cleaning prices.
Emergency cleaning services are available.
Eco-friendly and harmless cleaning process.