Tiles and grout can accumulate dirt, grease, mould, and other contaminants over time, making them look dull and discoloured. Tile and floor grout cleaning removes dirt, stains, and other buildup from the tiles surface and grout lines between them.
For some heavily stained or discoloured grout, professional tile and grout cleaning services become necessary. A grout cleaning company has a specialised team, equipment, and techniques to deep clean and restore grout to its original condition.
From Drab to Fab, We Transform Grout with Our Cleaning Services
Arle Cleaning Service takes immense pride in its presence in the field for years and tile and grout cleaning expertise. With our devoted team, we make sure your tiled surfaces stand the test of time. Through our specialised techniques, we proactively prevent grout cracks and combat the growth of mould and limescale.
Moreover, our commitment to using safe and eco-friendly methods ensures your tile and grout surfaces are germ-free and restored to their original lustre. You can trust Arle Cleaning Service in the UK for exceptional results that enhance the longevity of your floors, making us your preferred choice for all your cleaning needs.
If you have any question feel feer to contact us.
Why Opting for Tile and Grout Cleaning?
Tile and grout cleaning makes the floor surface more captivating, which may be the most common reason for cleaning grout. However, there may be several other reasons for professional tile and grout cleaning services:
To remove dirt, grime, and stains. Tile and grout can become grimy, dirty, and stained and look unsightly over time. Our expert tile and grout cleaners have the tools to remove even the toughest stains.
To avoid the growth of mould and mildew. Mould and mildew can grow on tile and grout, especially in moist areas like bathrooms and kitchens, causing health problems. Our special cleaning solutions kill mould and mildew, stopping them from growing back.
To maximise the life of your tile and grout. When grout is dirty, it can become brittle and crack. Regular tile and grout cleaning can extend the life of your tile and grout. We can prevent it from cracking while keeping grout cleaning costs low.
To enhance your tile and grout look. Our cleaners will remove all of the dirt, grime, and stains and seal the grout to prevent it from staining in the future. This can also help you attract buyers when selling the property.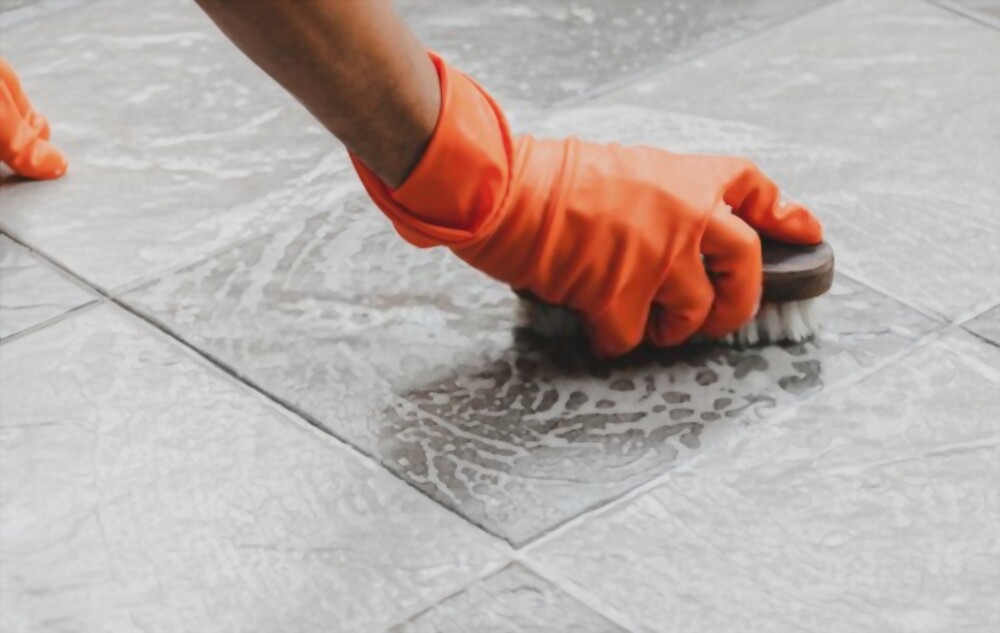 If you have any question feel feer to contact us.
Our Tile and Grout Cleaning Services
Our company takes pride in providing an immense range of top-notch cleaning services throughout the UK. Get the following advantages at your doorstep.
We Clean Both Inside and Outside Spaces
We clean all areas inside your house, office, or business premises, including kitchen surfaces, bathroom tiles, splashbacks, counters, floors, and walls. Additionally, we extend our services to outdoor spaces, specifically BBQ and grill wall tiles, swimming pool areas, and more.
We Employ Effective Cleaning Solutions
Our selection of detergents is based on their high efficiency. They are specifically formulated to eliminate harmful bacteria and germs from tiles and grout, ensuring a hygienic environment.
We Provide You with Professional Cleaners
Our team is highly skilled and extensively trained to handle various types of tiles and grouts, including vinyl, linoleum, ceramic, natural stone, and more.
Whether it's the tiles in your kitchen, bathroom, tiled floors and walls, or even the outdoor areas near the BBQ, our professional London cleaners are equipped to deliver exceptional results.
Professional Tile and Grout Cleaning Process
Arle Cleaning Service employs a meticulous and detailed approach to tile and grout cleaning by our skilled professionals. Typically, our professional tile and grout cleaning process encompasses the following steps.
Vacuuming – We begin by thoroughly vacuuming the surface to loosen and remove any dry soil or debris on your floors. This step prepares the area for deeper cleaning.
Mopping – Our experts employ effective mopping techniques to eliminate stains and ingrained dirt from your floors. We emphasise the importance of regularly changing the mop water and rinsing the floor to prevent streaking and ensure a thorough cleaning.
Grout Steam Cleaning – We use high-powered steam tile cleaners to perform a targeted steam cleaning process. Equipped with crevice attachment tools, we meticulously work on small areas and diligently clean the crevices between tiles.
Drying – After cleaning, we emphasise the importance of proper drying. By thoroughly drying the tiles, any remaining dirt is eliminated. Our team utilises multiple towels during this phase to achieve optimal results.